Platform

Overview

All of the various Wallester components come together in one easy interface that we call the Wallester platform.

This allows you to manage all your various products in one place easily and efficiently.

No longer will you need to use a number of different systems and logins to accomplish what you need. This hub acts as the central point of interaction which then gives you access to all the options and functionalities that come with the Wallester suite of products. It's a one-stop-shop for all of your financial management needs.
Here are just some of the components
that make up

the platform: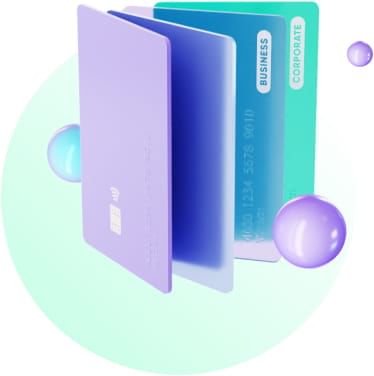 Card Issuing
Wallester's card-issuing product helps you to improve your brand recognition by issuing both virtual and physical cards that meet international security standards while also enabling sophisticated functionality that opens up a range of different opportunities. Manage these cards through the back-office platform and always have a handle on the cards you have issued.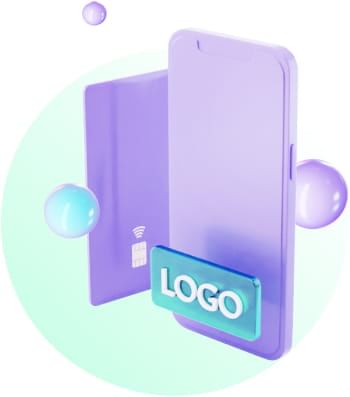 White-Label Solutions
You can take card issuing one step further by white-labeling cards, apps, and platforms with your unique branding — to create a customer experience unlike any other. We'll take care of all the difficult pieces, and then you can leverage your brand to provide truly customized and unique products to your end-users. Once again, all of these are expertly monitored and managed through the Wallester platform.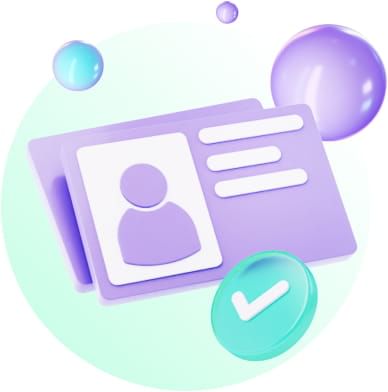 BIN Sponsorship
If you don't have your own BIN just yet, Wallester can sponsor a BIN for you which allows you to get up and running immediately , rather than having to wait for the long and arduous application process to run its course. All the administration surrounding this can be easily managed using the platform, meaning that you never have to worry about this particular part of the financial services ecosystem. We take care of it for you!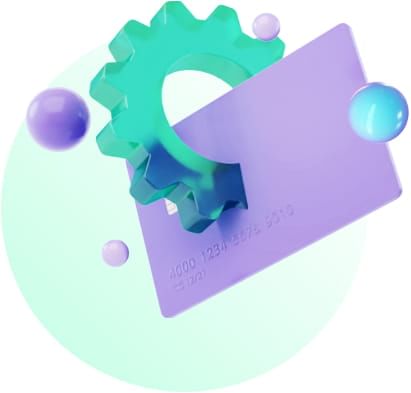 Processing
Wallester will help you get granular management of all your transaction processing, allowing you to manage card limits, account verification, top-ups, payments, credits, and much more. All of this comes together seamlessly in the platform, making it easier than ever to manage your business , no matter how complex it appears from the outside.
All of the above and more can be managed through the Wallester platform with an interface that is
specifically designed for efficient and comprehensive usage.
We've gone above and beyond to create an experience that gives you the control that you need to run a successful business.
Everything including risk management, program administration and customer support finds a home in this back-office system, so that you only have one place to go if you want to tweak and fine-tune your financial services offer.
Our Back Office Portal
Manage your card program via a multifunctional portal equipped with modern user-friendly tools, including metrics for gathering statistic data and processing cardholder information.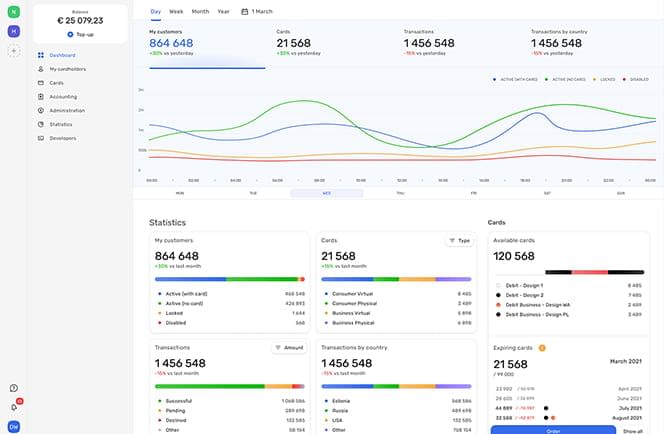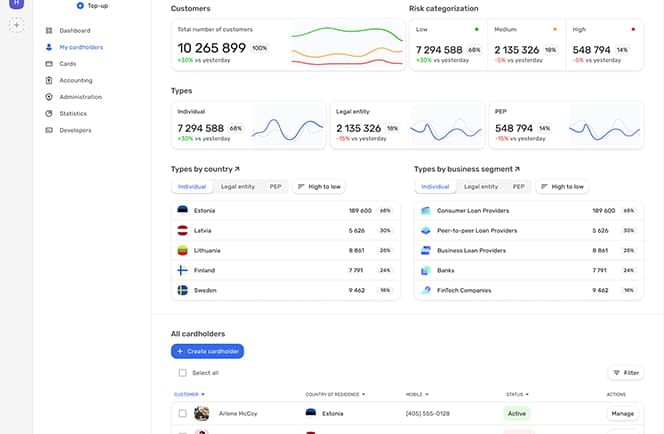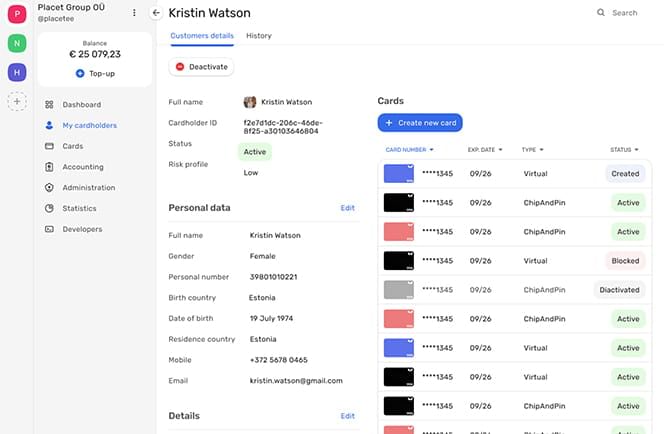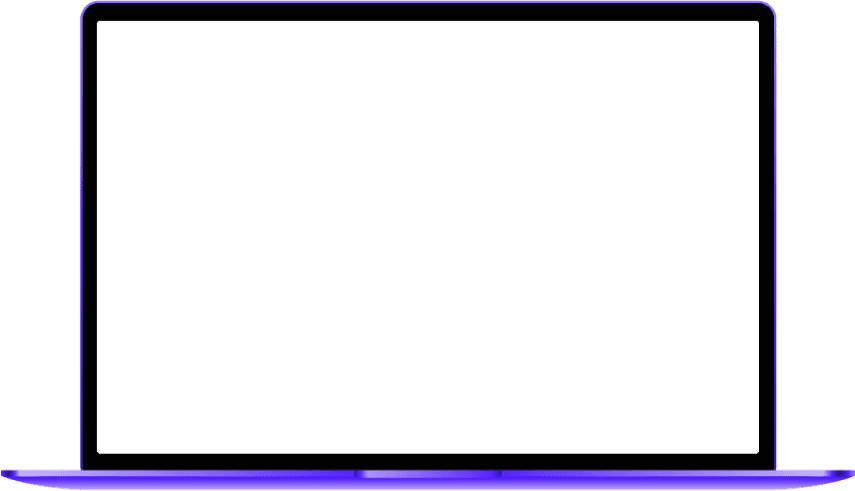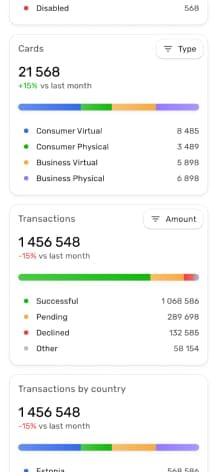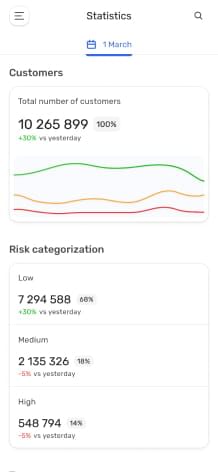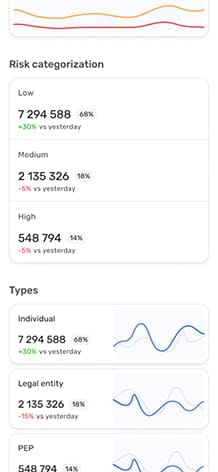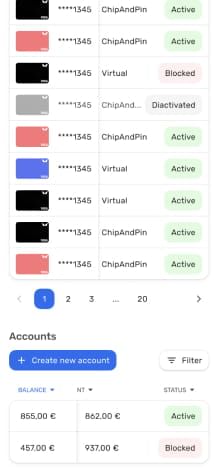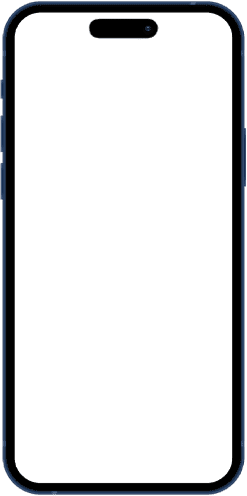 Control over finances
Keep track of the cash flow and improve your business' efficiency by optimizing the financial processes based on analytical information.
Program Administration
Ensure the most convenient management of your card program: add new users, order cards, monitor their quantity and expiration date, update the design and much more — benefit from all the necessary features in a single portal.
Risk Management
Reduce the risk of fraud by using the risk categorizing feature per user and track transactions in real time by different parameters: country, business segment, payment type etc.
Customer support
Improve the quality and the speed of customer support thanks to advanced tools that give you instant access to user data and its processing.
It's a truly one-of-a-kind system and we know that
it will radically transform your business

, helping you to focus more of your time and resources on those core competencies that really matter.

Leave the rest of it to us.

If this sounds of interest, be sure to get in touch with Wallester today, and let's see how we can help!
Ready to get

started

?
Let's discuss which solution will be perfect for you!
Contact us